I was interested to take a look at our recent weak economic performance from a longer-term perspective.
The graph below plots private domestic fixed investment as a fraction of GDP for the United States going back to 1929, along with the median value for this fraction over the whole period. We always see investment fall as a fraction of GDP during an economic downturn. And in prolonged economic slumps– the Great Depression and its aftermath in the 1930s, and more recently the Great Recession and its aftermath– investment as a fraction of GDP remains significantly below normal for a prolonged period.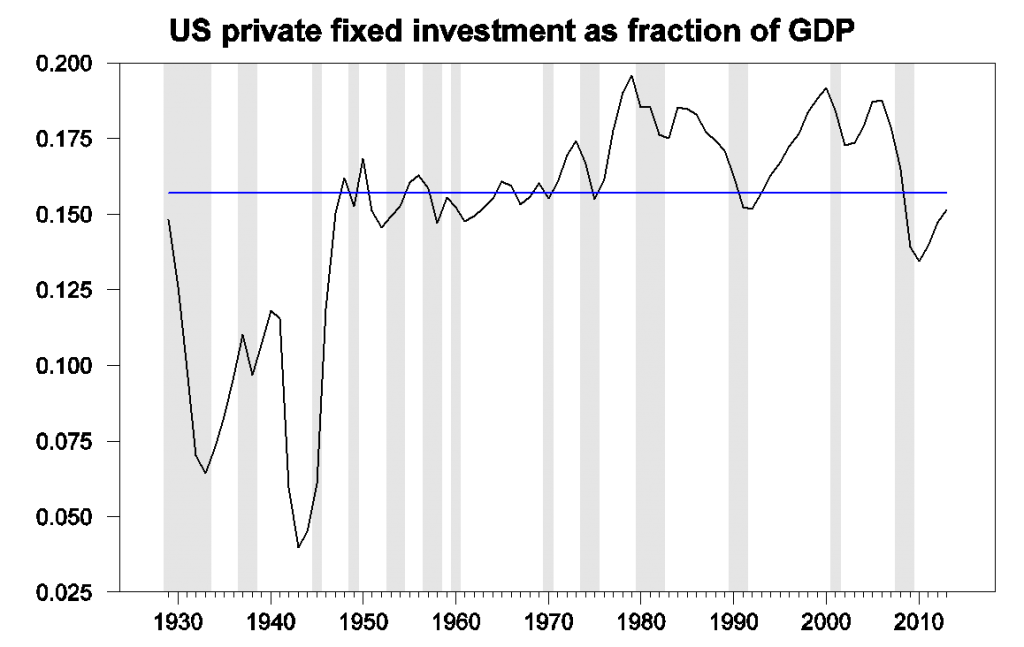 Nominal U.S. private domestic fixed investment as a fraction of nominal GDP, annually 1929-2013, from BEA Table 1.1.5. Horizontal line represents median value over the full period. Shaded regions indicate NBER dates for economic contractions.
Clearly the feedback runs in both directions. When the economy is doing badly, nobody wants to invest, and when investment is low, there's that much less spending to contribute to GDP. Interestingly we see the same pattern in Japan. Japan's anemic economy over the last two decades has been characterized as a prolonged period of below-normal investment spending.

Top panel: nominal Japanese investment as a fraction of nominal GDP, annually 1980-2013. Bottom panel: annual growth rate (measured as 100 times change in natural logarithm) of Japanese real GDP. Data source: 
WEO Economic Outlook Database
.
It's interesting also to look at the individual components of investment. They each exhibit the same broad comovements with output, but with some idiosyncrasies. Notably, residential fixed investment accounted for almost all of the gain in investment as a fraction of GDP in the years just prior to the Great Recession. And in 2013, residential investment was still below normal as a fraction of GDP, and is the primary reason that investment overall remains lower than normal.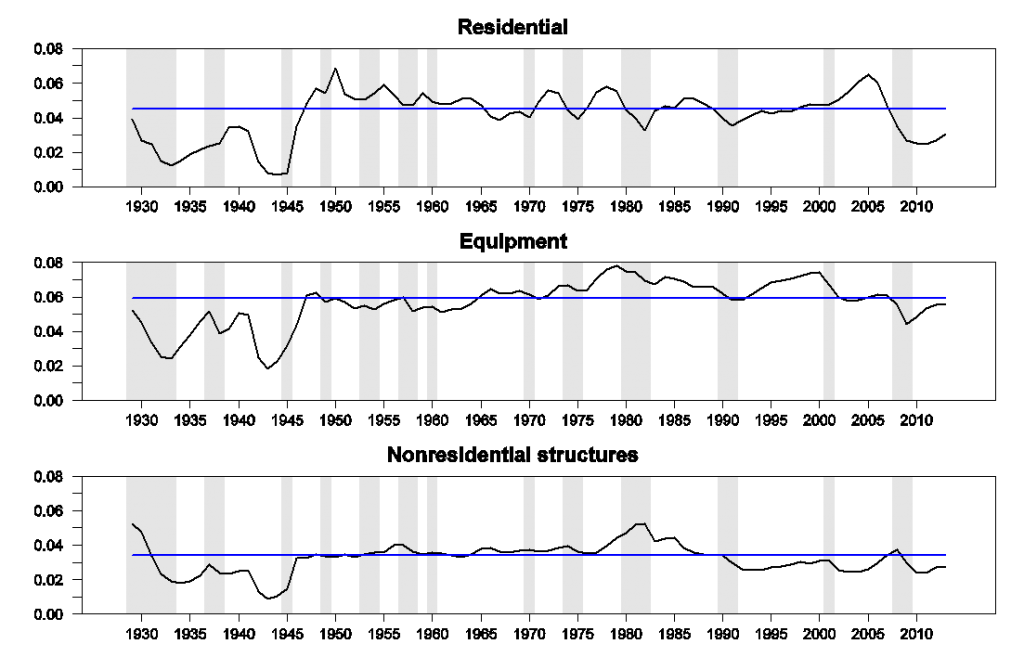 This piece is cross-posted from Econbrowser with permission.